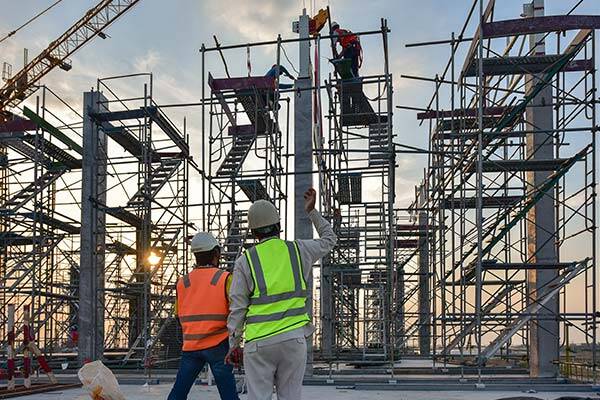 Your Leading NYC Scaffolding Contractor.
NY Construction Co works on suspended scaffolding and pipe scaffolding serving in NYC five boroughs—the Bronx, Brooklyn, Manhattan, Queens and Staten Island.
What is Scaffolding
Scaffolding also known as staging is a temporary structure used to support a work crew and materials to help construction, maintenance and repair of buildings, bridges and other man- made structures.
It s a temporary, elevated work platform and its supporting structure used for supporting work crew and materials. 
Benefits of scaffolding
It is cost-efficient to use scaffolding service as opposed to purchasing equipment required outright. Experienced scaffolders have the ability to deal with awkward areas and overcome any difficulties with regard to property access. They work exactly without compromising with the safety. 
Professional scaffolding firms adhere to several norms of safety factors when it comes to scaffolding jobs, including the stability of scaffolds, working at height, protection of public and training and supervision. 
The professionals are well trained and ensure that no accidents occur on-site. Hiring a professional scaffolding firm in NYC will ensure you that you have proper safety standards and that you have hired a firm that has required accreditation with team of scaffolders that have received the right levels of training.
Here are the top benefits of hiring professional scaffolding services in NYC:
Improved safety: Among the crucial benefits of professional scaffolding services is that they can offer great security to the labour force. Expert engineers understand how to create the structure so that it supports and safeguards your work force and building materials. 
Reach and positioning: Professional scaffolding services help the work force access to difficult to reach areas like ceilings and high walls quickly. This provides the employees the required height to get essential job done. It offers good platform for the workers to work, sit and base on.
High quality materials: By hiring professional scaffolding services to supply materials, you can be assured that what is set up is same as per the strategies. This will safeguard the employees.
Knowledgeable staff: Another benefit of seeking professional scaffolding services in NYC is the benefit of well trained staff. 
Why us
We are the experienced scaffolding contractors in NYC and cover all five boroughs Bronx, Brooklyn, Manhattan and Queens. We have presidium of expert masons with decades of experience in the scaffolding work. NY Construction Co is reliable service provide for you in the New York City as we offer great quality services at very budget-friendly rates. 
We are the major scaffolding provider to the construction industry in NYC. We design, engineer, erect and dismantle scaffolding, hoisting and protection system of virtually every kind. 
Scaffolding Construction in NYC at Best Price
Scaffolding technique is one of the most commonly seen practices during construction. Our scaffolding services can be utilized in any form of construction ranging from maintenance to repairing of building, bridges and other structures. 
Our experience and expertise help us handling the scaffolding services with care. We ensure that life of your worker is easy. For good and cost-effective scaffolding service in NYC, contact NY Construction Co and we will help you out!